Optoma GT1080Darbee: Full HD DLP Projector with 3D Support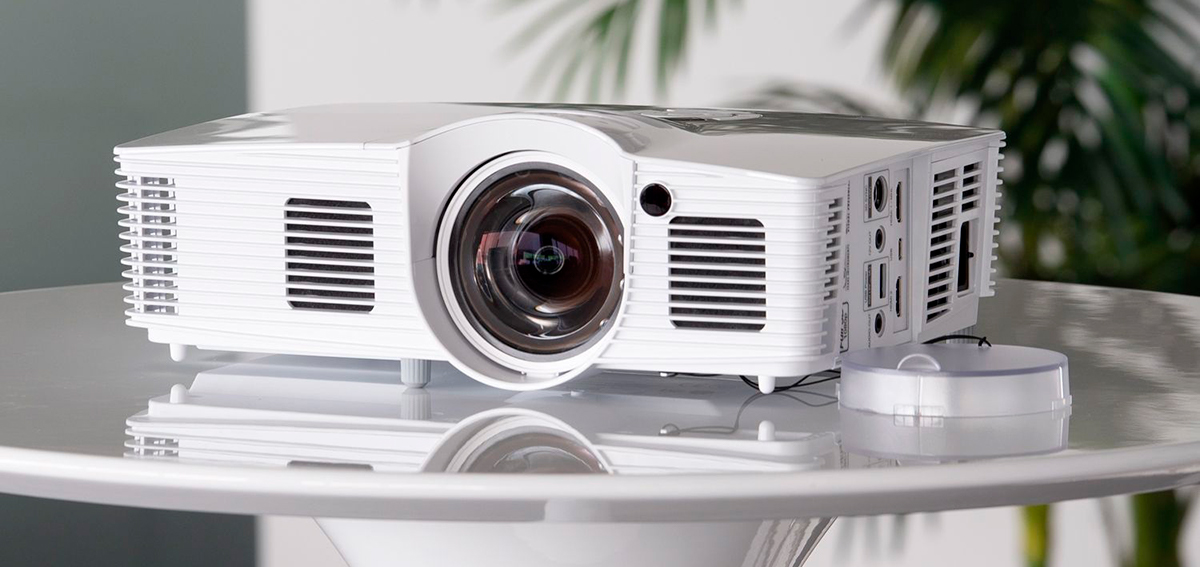 If you are searching for a decent projector for entertainment, you can't miss this Optoma GT1080 Darbee review. Having a Full HD resolution and 3000 lumens of brightness, it can be considered as one of the best models for playing games, watching movies and sports events. Besides, it's bright enough to be used outdoors.
Setup
Make sure to place the projector on a perfectly flat surface. Then, turn on your PC and connect it to the projector using a USB or HDMI. Turn the projector on. After about 10 seconds the start screen should appear. Then, select an input source (using a remote or onboard button) and perform initial adjustment by following the on-screen instructions.
Features
The Optoma GT1080Darbee is a DLP projector that delivers sharp, high-quality projection and has good 28000:1 contrast, being able to offer deep blacks and bright whites. Special DarbeeVision technology provides more detail in textures and makes the image even more vivid and clear, so it seems more realistic. Besides, thanks to this technology, the unit can project onto any light surface without losing image quality.
The Optoma GT1080Darbee 1080p projector can display up to 1073.4 million colors and features dazzling 30-bit color depth. Despite the high brightness level provided by this model, it's equipped with an energy-efficient lamp that has a long service life of 8000 hours. It will last for more than 10 years even if you will be using the projector for several hours every day. It consumes 262W of power at max brightness level and 215W in Eco mode.
This model can display 3D content from 3D Blu-ray Disc players, game consoles, etc. As for gaming, the projector comes up with a special Gaming mode and a low input lag of 16ms. Besides, it also supports a 144Hz refresh rate, so all fast-moving content looks smooth.
The image can be extended up to 120 feet. And there is no need to place the unit far from the protecting surface. You can put it only 4 feet away from the screen. Hence, it can be used in a small room. The image setup is easy thanks to /- 40° vertical keystone correction. Unfortunately, the Optoma GT1080Darbee projector doesn't have an optical zoom capability. This means that you can adjust the image size only by moving the projector relative to the projecting surface.
One of HDMIs supports MHL which enables you to wirelessly share content from HDCast Pro system, Roku streaming stick, smartphones, tablets, etc. The unit is supplied with a couple of 10W built-in speakers. They are much better than many other projector speakers but still too quiet for large spaces.
The projector comes with an Optoma GT1080Darbee manual, power lead, HDMI and MHL cables, remote control, lens cap, and carrying case.
Design
The unit is white and has a square shape with slightly rounded edges. It looks minimalistic as there are only 5 control buttons and 4 directional select keys. All the buttons are grouped in a keypad on top of the unit. There is also a focus ring.
This model offers flexible connectivity options, having 2 HDMI inputs, 12V out connector, 3D sync out connector, USB-B mini, audio out, and USB power out on its rear.
Conclusion
The Optoma GT1080Darbee 1080p 3000 lumens 3D DLP short throw gaming projector has a decent projection, being suitable for watching media content in high quality. It also has a lot of features for a superior gaming experience. In addition, this model is 3D-compatible which is a great bonus for movie lovers.