Epson VS250: Business Projector with Bright SVGA Resolution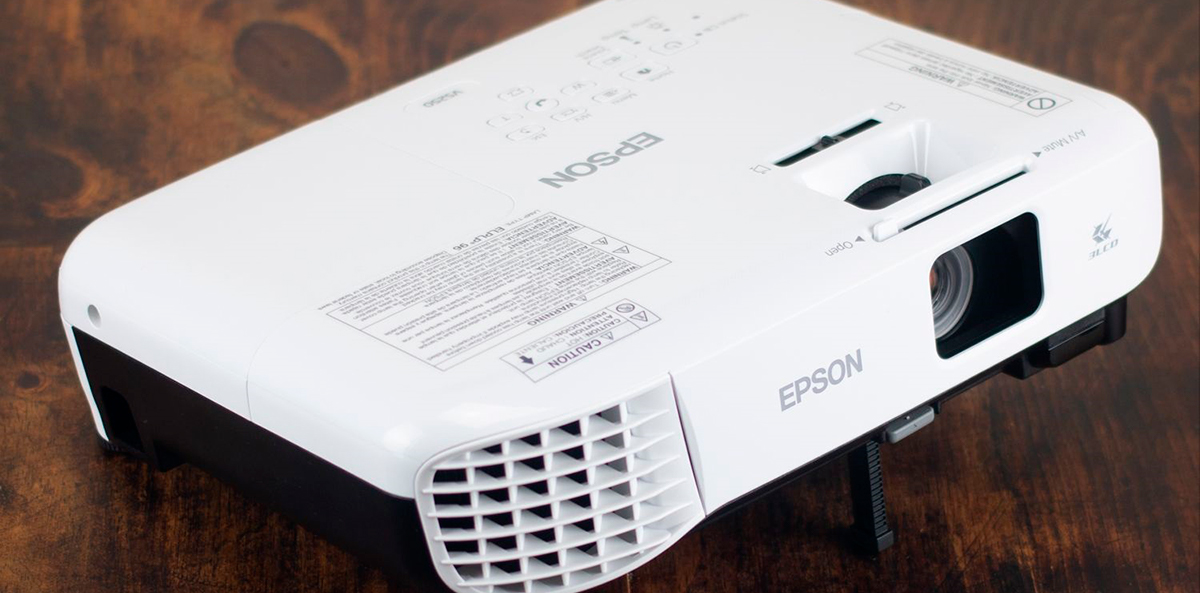 The Epson VS250 has a maximum brightness level of 3,200 lumens to overcome ambient light. Having an SVGA resolution (800 x 600), it's intended to be used for projecting simple data such as business presentations. You also can connect a wide array of devices to this unit: smartphone, laptop, digital camera, Amazon Fire TV stick, Blu-ray player, Apple TV, etc.
Setup
This model operates on any flat surface, so you can place it where you want to. Then, turn your computer on, and connect it to the projector using a USB or HDMI cable. After that, install the driver and follow the instructions. You can use a remote or onboard controls to adjust the image.
Features
The unit projects image with accurate and vivid colors. However, it lacks in terms of clearness, so small letters look fuzzy. It also can't provide high definition, so videos and movies look grainy. With a 4:3 aspect ratio, it's not suitable for 16:9 widescreen content. Being an LCD model, it's free from distracting rainbow effect.
The Epson VS250 SVGA projector emits just 37 dB of noise (28 dB in Eco mode), so it won't disturb you with annoying buzzing. It uses a long-lasting lamp that works up to 6000 hours in standard mode and will last about 10000 hours in Eco mode.
The Epson VS250 projector is equipped with an automatic vertical keystone adjustment. You also can quickly set the required size of the image thanks to 1 – 1.35 zoom range (it uses digital zoom). Besides, I didn't notice any significant deteriorations in quality during zooming, so you can feel free to increase the size of the image. There is also a horizontal key correction slider.
However, this model lacks wireless connectivity support (one can add it by getting a LAN module). The unit is also equipped with a little mono 2W speaker that is very quiet, so you will probably need to connect the projector to an external audio system. I also don't like the fact that it's missing a headphone output. The VS250 comes with an Epson VS250 manual, remote control, CD with driver, and power cable. However, the provided remote is small and has too many buttons with quite a strange arrangement, so it's not very user-friendly.
Design
The Epson – VS250 SVGA 3LCD projector goes in a black and white case with a compact and lightweight design. It measures 11.9 x 9.2 x 3.0 inches weighing a bit more than 5 pounds, so it can be easily moved from room to room.
All the inputs and on-projector controls are clearly labeled. On top of the unit, you will see such basic buttons as source search, enter, escape, home, menu, etc. It also has a special leg for height adjustmen
On the rear, there are such types of connectors: HDMI, component and composite video inputs, RCA audio input, USB type A, and USB type B connectors.
Conclusion
As you can understand from this Epson VS250 review, it's a solid business projector, suitable for those who do a lot of slideshow presentations. It easily overpowers daylight, so the image doesn't necessarily require dark conditions to stay vivid. Thus, it's fair to say that it has one of the highest brightness levels among projectors with SVGA resolution. You even can use it for outdoor presentations. It's also portable, being suitable for frequent transportations. Despite the fact that this projector has wide connectivity options, its native resolution is too low for watching movies and videos.