Wacom Intuos Comic vs Wacom Bamboo comparison chart of the tablets

Wacom Intuos Comic Pen and Touch – an elegant graphics tablet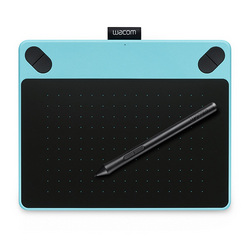 This is a reliable device that has ink, sketch and color frames. Great sensitivity of pressure lets you draw with a stylus like with a common pencil. It can also replace your mouse. The pen is battery-free, which makes it light so you the drawing process will not be tiring. The drawing surface supports multitouch, which may greatly speed up your workflow. This model comes with a copy of Clip Studio Paint Pro (the license is valid for 2 years) and Anime Studio Software. Buying this product you will get everything you may need to start creating digital art (including spare nibs).
Pros of Wacom Intuos Comic:
The necessary software is provided.
The basic preference controls application is good and includes all features you need.
Fully Windows and MacOS compatibility.
Drivers are easy to install.
It is portable since it is lightweight.
The device is very accurate in terms of catching your movements.
It works with the most popular graphics-editing software packages.
Cons Wacom Intuos Comic:
The drivers may be unstable and crash frequently.
The device is quite small and it is difficult to draw if you are used to draw with wide strokes.
The multitouch performance is not great (there is a lag when you edit an image with your fingers).
Wacom Bamboo – an accurate pen tablet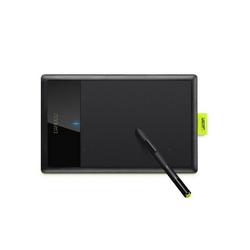 This tablet is compatible with modern OS. It is very precise in terms of pressure, since it registers 1024 levels. Wacom Bamboo can be used both by left- and by right-handed artists it comes with 3 spare pen nibs. The device is very responsive in terms of your movement due to the high read speed. Sensitivity settings can be easily adjusted. Overall it is very customizable. A CD that comes with drivers may be of no use for you, if you have Win 8 or 10.
Pros of Wacom Bamboo:
It perfectly catches changes of pressure.
It is compatible with major graphics software.
It is a highly-mobile device since it is quite small and light.
The pen does not have any batteries so it is light and easy to manipulate.
Cons Wacom Bamboo:
No pen stand.
The USB port may wear out so it does not hold the wire tight and the device becomes unstable.
It has not any buttons. It makes the process a bit longer since you need to use a keyboard or choose the right function with a mouse.
Wacom Intuos Comic vs Wacom Bamboo comparison chart — find the best solution
If we compare Wacom Intuos Comic vs Bamboo, we will see that there are many common features, like the 2540 lpi resolution and a battery-free pen. Moreover, both models are provided with spare nibs. However, there are some differences between Wacom Bamboo vs Wacom Intuos Comic.
The advantage of Wacom Intuos Comic is its pressure sensitivity (2048 levels versus 1024 levels that Bamboo has). Plus, it comes with the software you need. The disadvantage is that the drivers may be quite unstable and crash frequently.
The advantage of Wacom Bamboo is its great responsibility, so it catches even the slightest movement. The disadvantage is that it is quite small, so wide strokes are not an option.
If you choose between Wacom Bamboo vs Intuos Comic and you want to draw comic, then consider buying Wacom Intuos Comic, but if you need a device that can assure a high level of precision then go for Wacom Bamboo.